Please note Business CreditWise is no longer available.
CapitalOne recently announced Business CreditWise, a service that offers business owners a free business credit report and ongoing monitoring. Nav has been offering business owners free business credit reports and monitoring for over five years. How do these two services compare?
Here I describe the features of the two services so you can understand what each one offers.  
Disclosure: I work for Nav. In addition, Nav offers credit cards issued by CapitalOne.
CapitalOne Business CreditWise
Business CreditWise is available to any small business owner in the U.S.; you do not need to have a CapitalOne account to use the service.  
The signup process appears to vary, depending on whether you already have an account with CapitalOne, including a personal credit card, or the consumer CreditWise service which monitors personal credit. However, at a minimum, you will likely have to verify your identity with a phone number and/or email address.
Business CreditWise displays business credit information from the commercial credit reporting agency LexisNexis. If your business has a report, you will see it displayed in your account.
The report contains the following sections:
Business Details
Credit Usage
Payments
Public Records
Each individual section indicates whether it is "good," however, there is no credit score displayed, and in the FAQ's it says that a credit score is not offered.
Here's a screenshot of the main dashboard: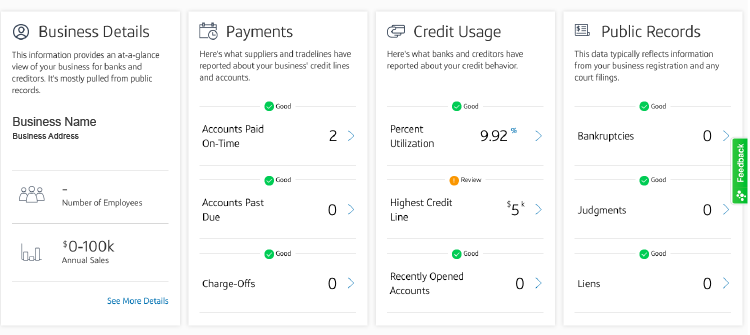 You can drill down into each section to see more details. For example, the payments page lists accounts paid on time, accounts past due and charge-offs. It will then summarize the number of accounts of different types, such as commercial cards, lines of credit, term loans etc.
Here is a screenshot of the payments page: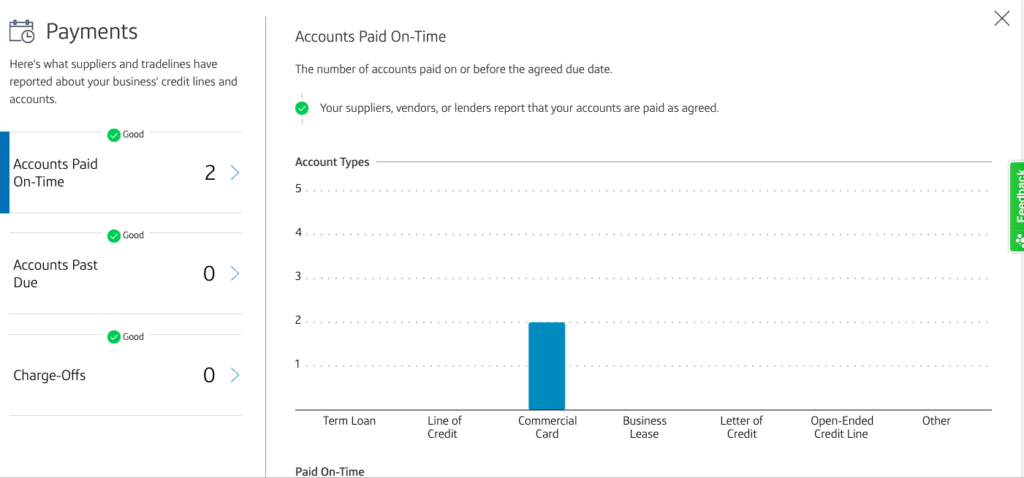 Note that business credit reports in general don't list the names of individual creditors so the fact that it does not display the names of the two commercial card issuers reporting is not unique to this product.
In terms of business credit education, there is an FAQ section and a section that explains how business credit reports are created. At this time, however, there do not appear to be any specific or tailored recommendation for the business owner about next steps to take to build a strong business credit report with LexisNexis.
Nav
When you sign up for a free Nav account, you will be asked to verify your business so your business credit reports can be shown to you. You may also be prompted to answer questions to verify your personal identity. (Nav shows business owners both personal and business credit reports, and because access to personal credit is highly restricted, the identity of the person requesting his or her own report must be verified before those reports are displayed.)
Check out our Business credit card options
Nav shows business credit reports from each of the three major commercial credit reporting agencies: Dun & Bradstreet, Equifax, and Experian. Your business may have a report with none, some or all of them, and you'll have the opportunity to check on each one.
Here's a screenshot of the main Nav dashboard: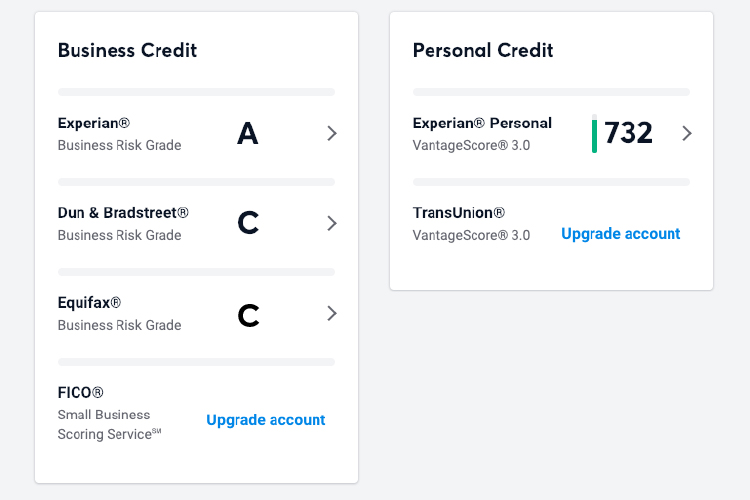 From there, each report can be viewed individually. Sections for each report include accounts, public records (such as UCC filings), collection accounts and legal filings (such as tax liens or judgments). Here's a screenshot of an Experian business credit report: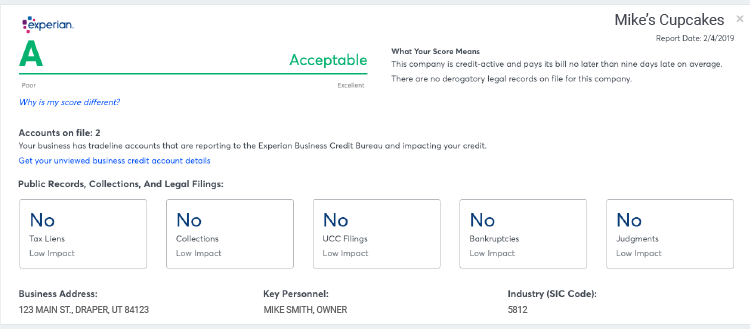 Free Nav accounts show a letter grade that correspond to a credit score range. In this example, the "A" means the business has very good credit. A numerical score is available with a Nav paid account.
Nav offers a business credit education tool called "BusinessLauncher." It walks the business owner through the steps needed to build and maintain strong business credit. For example, the business owner might need to get a D-U-N-S number as the first step in establishing a credit report with Dun & Bradstreet, or may need to establish accounts with vendors that report. Here's a screenshot of those tasks in BusinessLauncher:

Finally, for many small business owners, the ultimate goal of building business credit is to be able to get financing. Nav offers financing from more than 100 sources, and uses its proprietary algorithm MatchFactor to help business owners understand which types of financing they are more likely to qualify for.
Summary of Nav vs CapitalOne Business CreditWise
Included for Free
Nav
CapitalOne Business CreditWise
Credit data from commercial bureau(s)
Dun & Bradstreet

Equifax

Experian

LexisNexis
Credit score
Credit grades/score ranges from:

Dun & Bradstreet

Equifax

Experian

N/A
Tools for building strong business credit
BusinessLauncher
N/A
Ongoing business credit monitoring
Dun & Bradstreet

Equifax

Experian

LexisNexis
Financing insights
Over 100+ options and insights
N/A
This article was originally written on February 20, 2019 and updated on September 9, 2022.
Rate This Article