New Name, New Features…Same Badassness
I'm fired up to share some big news with the Creditera community.  We are now Nav.
It's more than just a name change though; it's another step in our mission to help millions of small business owners navigate the complex world of business credit and finance, so they can confidently create the business of their dreams.
Caton and I founded founded the company in 2012 because we saw a disconnect in the credit and financing market that was hurting business owners. Everyone says they love the American Dream, but the dream and reality weren't adding up. Too many businesses didn't qualify for financing. Too many only qualified for financing they couldn't afford or shouldn't take. And too many ultimately failed because they didn't have the capital or tools to manage their financial health.
As entrepreneurs ourselves, we've experienced these same challenges. My first business was an electric sign company in Nampa, Idaho–the first of four I started. I've needed to access capital more than 30 times. Trying to figure out how lenders were judging my financing applications was miserable. I was turned down for business loans and my banker often couldn't tell me why, or what I needed to do to qualify.
We discovered that personal and business credit health were at the core of financing issues. We  made it our mission to create transparency and help business owners leverage their credit data for financing and other business relationships. That's why we fought hard to be the first site to offer free personal and business credit scores together, along with tools and education to help business owners improve.
Expanding our mission and tools
Since Nav's inception, a whole bunch of online "alternative" lenders have entered the small business financing space.  Unfortunately, some of these lenders are taking advantage of businesses that haven't managed their credit profile. On top of that, all the new options have added to the complexity for small businesses trying to figure out what is right for them. Over 40 types of financing exist right now–from government-backed SBA loans, to short-term cash advances, and even business credit cards.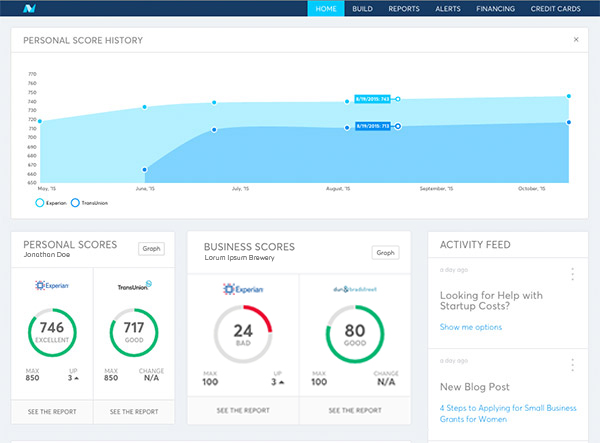 Our new name, Nav, reflects our expanded mission–both helping small businesses find their way through the increasingly complex world of managing their financial health, as well as empowering them with more data, information and knowledge in a way that's simplified and personalized to their needs.  While analogies exist on the consumer side, business owners have largely been left to fend for themselves. That's why we're going beyond business credit and including tools around other information that is used by lenders and business partners, like business checking account and cash flow data.
To help advance our mission and bring greater transparency to the lending process, we've also just acquired Fundastic. Integrating their content and tools lets us better show you the interest rates and terms for each financing option. We believe you have the right to know exactly how much your funding will cost–no tricky interest rates or hidden fees.
Here's What's New at Nav
We're proud to be the first non-lender to sign the Small Business Borrowers' Bill of Rights and we also just launched new tools:
A dashboard that quickly shows you where your personal and business credit stands, and clearly explains the most important things for you to work on to improve.
An enhanced marketplace that lets you easily search for financing options based on your credit data and needs, so you can make sure you're applying for the best product with the lowest rates.
An updated mobile app that gives you all our great features in the palm of your hand, wherever and whenever you need them.
And in July, we became the first site to make the FICO SBSS business credit score available to you. This score is used by the U.S. Small Business Administration and thousands of lenders to help them make approval decisions for some of the lowest-cost loans available.
Our name has changed, but our commitment to bringing you the most valuable business advice and tools remains the same. And this is just the beginning. We're always on the lookout for more ways to help you succeed. If you have feedback about how we could improve, please let us know.
As always, thanks for being brave enough to fight for your business dream. We'll keep fighting for you.
Co-founders of Nav
Downloadable version of Nav logo
This article was originally written on October 20, 2015 and updated on December 10, 2021.
Rate This Article