For entrepreneurs, time is money. And unlike money, which you can generate with the right strategies, you can't create more hours in the day.
So it's understandable that when it comes to finding small business financing, some business owners will go for the fastest and easiest financing, not realizing how that may impact their business in the long run.
Here are three reasons why the easiest (or fastest) loan may not always be the best:
1. You May Overpay
With small business financing there is often a trade off between time/effort and cost. The easiest and fastest loans often cost the most. Bank loans, for example, are often the most attractive in terms of both interest rates and repayment terms, but they are also among the hardest to get, especially for young businesses or those with financial challenges. Crowdfunding can also be very attractive, both in terms of the cost as well as the marketing buzz a well-designed crowdfunding campaign can generate. But these campaigns can take weeks, if not months, to implement.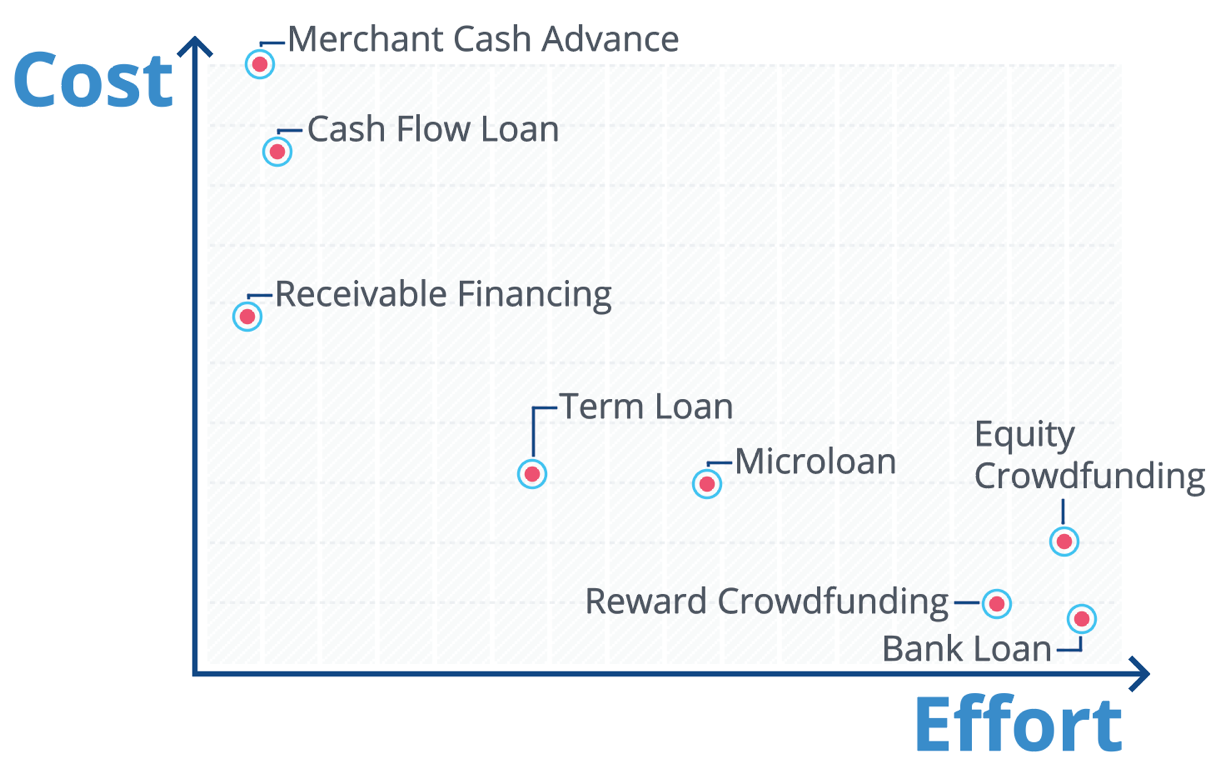 2. You May Get the Wrong Type of Financing
There are more than 44 different types of financing — and literally thousands of lenders offering them. It can be challenging to sort through various options to find the one that's best for your business. But going with the wrong offer can lock you into repayment terms that don't match your business cash flow, for example, or can obligate you to expensive costs or fees that you have to pay even if you refinance or pay the debt off early.
A classic example: A borrower gets business-cash-advance financing that is very fast but then requires daily withdrawals from future credit card receipts to pay the balance back. Those daily withdrawals may make put significant pressure on cash flow and make it hard to pay bills, or even make payroll.
3. You May Get Stuck
If you're not careful you can get stuck with financing that may be unsustainable. Worse, it can make it difficult or impossible to refinance. An example: lenders place UCC filings that serve as a red flag to other lenders or financing companies. Another common example: Business owners may turn to personal credit cards for funding, but high balances on credit cards can hurt personal credit scores, which in turn make it more difficult to get financing.
If you need financing very quickly, you may want to consider a business credit card while you look at other options. The rates are usually lower than other types of fast financing, and most business credit cards do not report activity to personal credit reports unless you default. This can help keep your business debt separate from your personal credit.
Before You Borrow
There can be a time and place for easy business financing. A startup may have little choice, for example, or a business may face a crisis (or opportunity) that requires an immediate influx of capital.
But spending a little time now preparing for financing before you are ready to apply can go a long way toward helping you find better options. Three steps you can take:  
Check your credit, including both personal and business credit scores. Most lenders will review one or the other. A few financing options don't review credit at all, and some look at both.  
Gather basic financial information including tax returns (2 years business and personal if available), your most recent business bank account statements (six months, if available) and financial projections.
Review loan offers carefully. There is no requirement for lenders to disclose an Annual Percentage Rate (APR) for small business financing. Use a free online small business loan calculator to help you understand the cost. If there are terms you aren't familiar with, ask your accountant, attorney or SBDC advisor for guidance.  
This article was originally written on November 3, 2017 and updated on January 30, 2020.
Rate This Article