A note from Nav's co-founders:
Four years ago, we founded Nav to have a meaningful impact on the lives of millions of small business owners by making it easier for them to understand their credit profiles. Today, we're excited to announce that Experian is investing in our mission, the service we're providing, and the team we've built.
• The investment is fuel for us to build out our platform for small businesses.
• The partnership provides more small businesses the opportunity to access the platform.
Why this matters for small business
Nav has always been the only place that small business owners can get both their personal and business credit reports for free, integrated with business financing options that show them their approval odds before they apply.
Honestly, not much will change at first. This round of funding lets us accelerate our mission and will make it even easier for business owners to save money and grow their business idea. In the near-term, we will be improving the information we can provide with both Experian personal and business credit details for free.
At Nav, we make all of our business decisions—from the technology we create to the educational articles we write—with small business owners in mind. We value our customers above all else. 150,000 business owners are already benefiting by using our platform to steer them in the right direction.
Learn More: Experian Business Credit Report
That's the good news. The bad news is that small businesses are dying at an alarming rate. These gutsy entrepreneurs are the unsung heroes of the US economy. They produce nearly half of our goods and services; they're responsible for two out of every three new jobs created; and they generate the majority of innovation in the process.
Solving the root problem
One of biggest hassles business owners face is being denied or not getting the financing they want. Because Nav and Experian have deep access to credit data, we can match business owners to their best options before they apply. We can also give business owners tips on how to improve their profiles.
Neither Nav nor Experian are lenders, which makes it easy for us to align with the small business owner's best interests. We're not just trying to get them a loan at any and all costs. There's plenty of capital available; banks are sitting on record amounts of money. You can make all the capital in the world available to a small business owner, but if their credit isn't solid, it doesn't matter. This is the crux of the problem we're solving.
Unfortunately, awareness of credit scores are low, and our own research has shown that business owners who understand their business credit scores are 41% more likely to get approved for an affordable, traditional loan. This underscores the urgency of Nav's mission.
We take this personally
Thanks to personal experience, we know how business owners are suffering. Between the two of us we've owned a manufacturing company, franchises, a hotel, and a law firm—all small businesses. We've lived off of credit cards and written checks out of savings to make payroll. We've had kids in the hospital and wondered whether we'd have insurance to cover it. At times, we—along with our families—questioned our sanity.
We've also known the misery of trying to figure out how lenders were judging our financial applications. In our early days as entrepreneurs, we were often turned down for business loans without being given a reason why, or an explanation of what we needed to do to qualify. We felt stuck in a maze of paperwork, secrecy, and red tape, with no one and nothing to guide us.
Through it all, we learned a fundamental lesson: Personal and business credit health are at the core of all financing issues in small business. It's the reason we both walked away from comfortable existences running businesses we'd already established to start Nav: To help others out of the maze.
One of our customers summed it up best:
"Securing business financing can be a confusing, and at times, maddening experience," said Leah LaSalla of Astralar. "The information we acquired from Nav in about 30 seconds was instrumental in helping us get our most recent funding. Business financing is a major hurdle and Nav bridged the knowledge gap that allowed us to keep moving forward."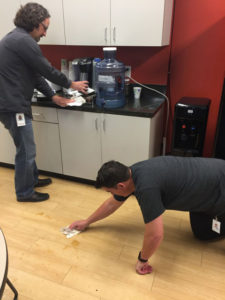 We're all in for small business
It's a lot of hard work to build any company, and we still have a ways to climb, but thanks to you, our customers, the view is never less than inspiring. We're so grateful that you've joined us on this journey. That's 150,000 small businesses alive and kicking with Nav, with only about 28 million to go.
We had a dream, just as you do. We went all in, just as you have. Our vision is the same as yours; we're in this together. It's only going to get better from here.
Here's to small business success!
—Levi King and Caton Hanson | Co-founders of Nav
Nav recently completed its series B funding of $25 million from existing investors and new investors including Experian. Experian is the lead investor in the round and will also secure a seat on Nav's Board. 
This article was originally written on September 21, 2016 and updated on September 9, 2022.
Rate This Article