This fall Nav surveyed 500 small business owners to learn more about how they access borrowed capital generally and what their experiences were with the Paycheck Protection Program (PPP). I think it goes without saying that it has been a challenging time to be a small business owner and our goal is, and always has been, to put systems and information in place to hopefully make it a little easier. That includes small business financing in 2020 and beyond.
We talked to business owners from all across the country, in many different industries, and different sizes—from very small businesses with only a handful of employees to their larger small business siblings with a few hundred employees. It is very apparent to us, and the survey responses bear this out, that it would be a mistake to pigeonhole every small business in the same category. At least, when talking about small business financing, the experience of a business owner with five or six employees is decidedly different from their larger peers.
With that in mind, we've categorized the responses based upon the size of the businesses we surveyed. To make it a little easier to see what your business peers are experiencing, we've categorized survey respondents as follows:
Very Small Businesses (250 of the 500 respondents): 1-19 employees
Small Businesses (150 of the 500 respondents): 20-99 employees
Mid-Sized Businesses (100 of the 500 respondents): 100-500 employees
I'll make sure to include those three identifiers as I go through the survey results.
Optimistic Businesses Were Borrowing
In spite of the challenges faced by small business owners in 2020, there were optimistic business owners who were borrowing other than PPP funds, Economic Injury Disaster Loans (EIDL), or business credit cards. Those businesses that entered 2020 that expected to do better in 2020 compared to 2019, tended to borrow.


Borrowing Was Frustrating For All, But for Different Reasons
Depending on the size of the business, the frustrations were different.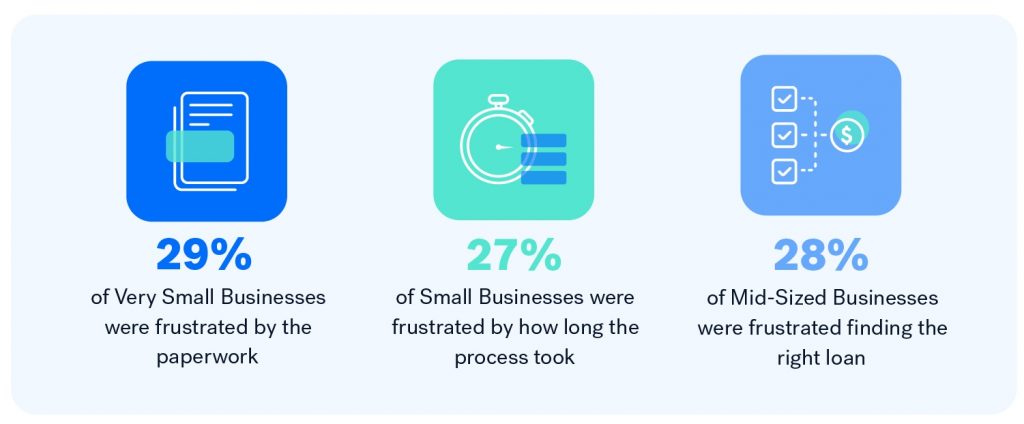 The often cumbersome application process was a challenge for the Very Small Businesses, likely because the business owner would often be completing the application for him or herself, and didn't have the accounting resources or team their larger counterparts did.
As small businesses grow, it makes sense that the Small Businesses, struggling with growing pains would experience more frustration at how long the process took—particularly if they were trying to take advantage of a growth opportunity and needed to respond quickly.
Mid-Sized Businesses were more likely to be looking for best-fit financing solutions to meet the specific business needs they were trying to accommodate, which became a challenge during the year as sources of financing dwindled in the face of what lenders considered higher risks associated with the impact of the pandemic.
All three groups, to one degree or another were frustrated by their ability to get the amount of financing and the loan terms they were looking for.

Looking For Financing in All The Wrong Places
As the old country balad goes, as a group, small businesses were looking for love (or financing) in all the wrong places. Regardless of the size of the small business, the majority of business owners sought financing at the bank—where only the largest and most creditworthy typically find success. This could help explain why they felt so much frustration when looking for a small business loan.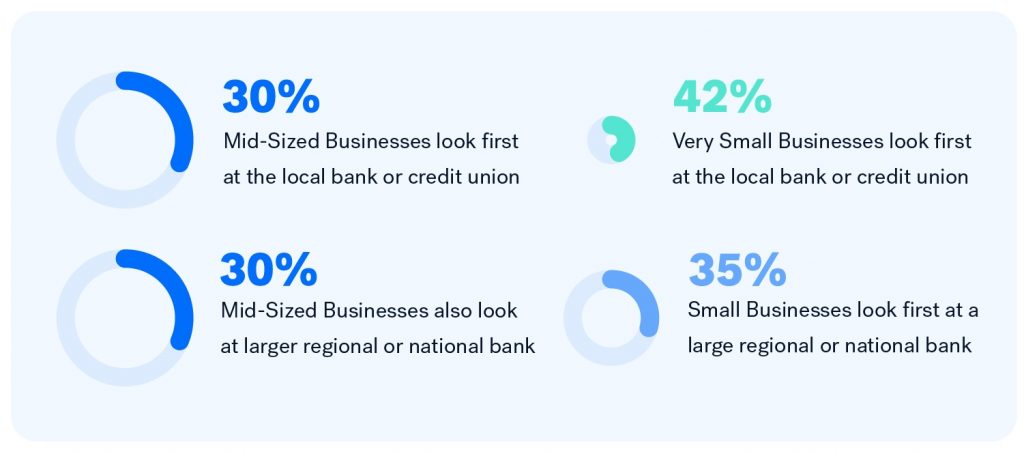 Traditional financing options like a small business loan from the bank or an SBA-guaranteed loan are best suited for those businesses that meet fairly rigid creditworthiness requirements—in other words good to excellent credit—and could explain why so many of the biggest small businesses found success there while their smaller counterparts did not.
Although traditional financing remains the first choice for all the small businesses surveyed, this is where business owners have less opportunity to find the money they need and where the processes and credit requirements seemed to be stacked against them.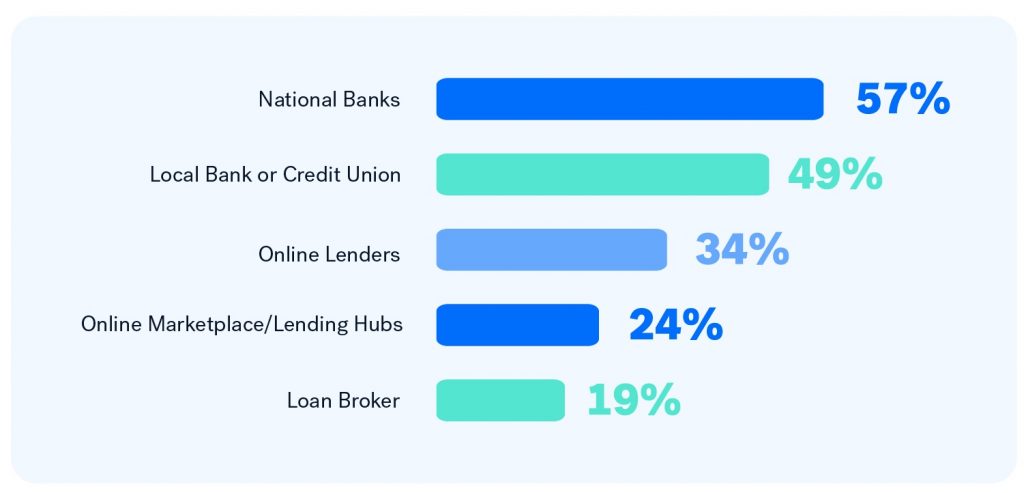 There are more financing options available today (even in the midst of the pandemic) than ever before. Small businesses need to look outside their comfort zones and the alternatives to the bank need to do a better job of reaching out to small businesses. National Banks, Local Banks and Credit Unions are still by far the place where small businesses owners go first.
What We Learned From the PPP
Business owners seeking PPP funds were in the same boat as small business financing generally. The bigger the small business the more likely they were to have applied for PPP funds.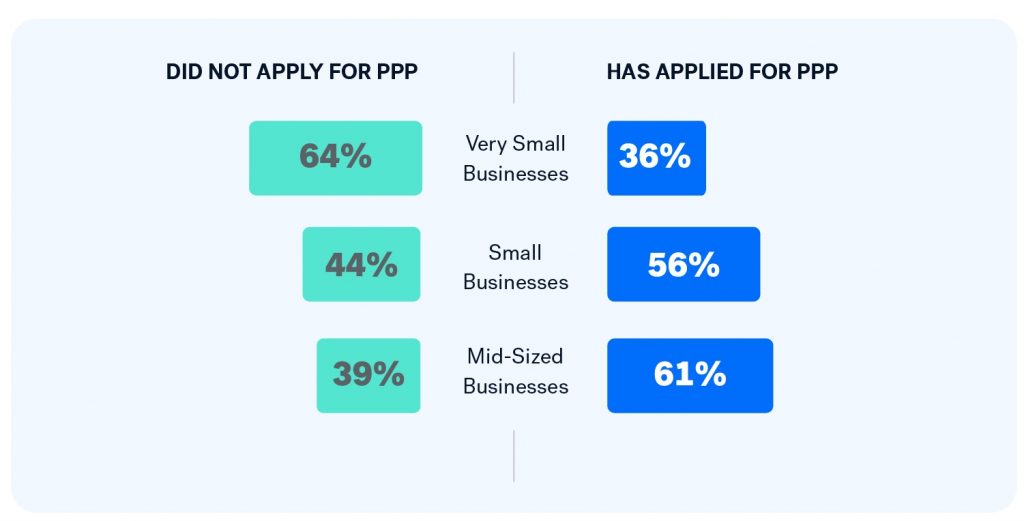 The PPP seemed to ignore the smallest small businesses in favor of their larger siblings.
We Should Expect a Repeat in 2021
As we get closer to 2021 and hopefully exiting the pandemic, the vast majority of small businesses that were approved for financing in 2020 say they will apply for more in 2021. It makes sense that they will need additional capital to fund business operations over the next 12+ months and that they will continue to need access to borrowed capital.

What this tells us at Nav, is that we need to continue to streamlining the way small businesses access financing to make sure that every small business, regardless of its size, can have the expectation that access to capital will be available to every creditworthy small business.
What Does All This Mean?
Small businesses don't all act the same or need the same things. Where a business is within its lifecycle and the size of the business all play a role in whether or not they will find the borrowed capital they are looking for.
Finding a small business loan is difficult for small businesses, but more so for the smallest small businesses
Too many businesses are looking for financing where they will least likely find success
The frustrations associated with accessing borrowed capital are different depending on the size of the business
The smallest small businesses need to hit above their weight in order to access the capital they need. They need to be better prepared and more savvy in how they look for financing. For our part, as part of the larger lending ecosystem, we all need to change the paradigm which governs small business lending to better serve the smallest small businesses.

Rate This Article