Whether it's your first business loan or you've been down the lending path before, there are plenty of things to consider when applying for funding. And though the lender rates and repayment terms are important, business loan requirements hold the key to your financing future. 
What do banks look for when applying for a business loan?
As you review your financing options and apply for a new business loan, take note of these business loan requirements:
Credit Score

Time in Business

Debt to income ratio

Monthly revenue/cash flow

Industry

Collateral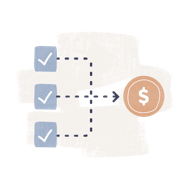 You're 3X more likely to get approved for a business credit card with MatchFactor.
Instantly see your top options for business loans and credit cards based on your business needs using Nav's MatchFactor.
Get matched

Credit score
In business finance, there are two credit scores that you need to keep in mind: your personal credit score and your business credit score. Personal credit scores reflect your activity as a consumer. Business credit scores, of course, reflect credit activity as it relates to your business.  
Both scores help lenders determine the risk associated with any financing agreement. A good or excellent score indicates healthy financial habits, like on-time bill payment and low credit utilization. A poor credit score can indicate that a borrower has failed to meet their repayment obligations and therefore may constitute a substantial risk.
Lenders can turn to both your personal and business credit score, so it's important to keep an eye on both leading up to the application process. Even though the loan is for your business, your personal score can play a major role; most lenders require that applicants provide a personal guarantee, or assurance that the applicant will be responsible for outstanding principal should the business fail to meet their repayment obligations.
If your personal score isn't stellar, an excellent business credit score can sometimes offer support to your application. If either score isn't in tip-top shape, it's wise to take a little time to figure out why and work on your credit. 
Though business and personal credit scores are provided by different credit reporting agencies, Nav can help you get both your personal and business credit scores for free. 
What should your score be? That depends on the lender and the type of loan you need. For instance, you'll likely need good to exceptional (670 – 850) credit if you plan on working with a bank or if you're seeking a long-term loan or business acquisition loan.
On the other hand, some lenders, including those that work with the Small Business Administration (SBA) have credit score requirements that allow borrowers with fair credit to access funding for everything from real estate to working capital. 
Still, there are other business financing options, particularly through online lenders, that are open to borrowers with fair to poor credit. These typically come with high rates, more restrictive terms, and a collateral requirement. 
Time in business 
There's no hidden meaning here. The "time in business" requirement refers to the age of your business, and many lenders prefer to work with businesses that have been open for a specific period. The assumption behind this requirement is that businesses of a certain age are more likely to maintain operations and thus represent a smaller risk than newly opened businesses.
In the past, it was common to see lending requirements that specify a minimum of two years in business. Today, there are still many lenders that continue to use that as a general rule of thumb, but there are also many lenders who have shorter requirements. There are also lending programs that were designed to assist with start-up business costs. 
If you're worried about meeting this requirement, it's best to speak with your lender and determine if there are financing opportunities that fit your current demographics. In lieu of more operational time on your belt, you may have to prove sustainability through a well-crafted business plan or rely on other factors covered here, like personal credit, current monthly revenue, or collateral, to help you secure the loan.
Debt to income ratio
Your debt to income ratio (DTI) refers to your total monthly debts (e.g, credit cards, mortgages, etc.) divided by your total monthly income. Typically presented as a percentage, this number is often used to determine if you can afford to take out a loan and, if so, how much you can afford to borrow. To determine your DTI, you can use the calculation below. 
DTI = Total Debt/Total Income
A lender may also look to your debt service coverage ratio (DSCR), which is similar to DTI but used to evaluate your business expenses as they relate to your net annual income. Included in your DSCR is your operating income as well as any debt obligations for one year.
To calculate your DSCR, you can take your net operating income and divide it by your total debt obligation, also known as your total debt service.
DSCR = Net Operating Income/Total Debt Service
A DSCR of 1 or higher means your business can cover expenses. A DSCR below that means that you'll likely need to rely on outside funds to cover a portion of your debt or operational expenses. 
There's no hard and fast rule when it comes to the perfect DTI or DSCR. Generally, you want your DTI to be somewhere below 43% — the lower the better. Conversely, a higher DSCR number is more favorable, and generally, experts recommend that you have a DSCR of 1.10 or higher, though this too can vary from lender to lender.
Monthly revenue/cash flow
Another way lenders determine if you are eligible for a business loan and how much you can borrow, is your monthly revenue. For obvious reasons, a lending institution would be hesitant to extend a small business loan if a borrower's monthly revenue wasn't adequate enough to make minimum loan payments. 
Your monthly revenue isn't the only thing that a lender will look at, however. Because revenue only tells one side of the story — i.e., how much is coming in — lenders will also analyze your cash flow, which indicates how money moves into and out of your business. 
To determine if your revenue and cash flow meet their underwriting requirements, lenders typically ask for financial statements as part of the loan application process. This includes balance sheets, which look at your assets and liabilities (e.g., real estate loans, vendor credit, etc.), as well as your bank statements and tax returns.
How much do you need to bring in each month? That depends on the lender. Some look for as little as $50,000 annually, which is just shy of $4,200 monthly. Others look for annual revenue numbers of $100,000 or more. As always, consult potential lenders for revenue specifics, and remember that there are funding options for start-up businesses, so don't get discouraged. 
Industry
Okay, so you know you there are basic financial requirements associated with a loan, but there are two other considerations that can swing the eligibility pendulum, and one has little to do with your finances. 
Though most lenders work with businesses of many types and sizes, quite a few have industry requirements that automatically make some businesses ineligible funding.
The list of restricted industries varies from lender to lender, in both number and type, but if your business falls into one of the categories on your preferred lender's list, you may need to look to another lender or funding option.
Collateral
Whenever you're reviewing business financing options (loans, credit cards, lines of credit, etc), it's important to determine if it's secured or unsecured. When funding is secured, it's backed by collateral, usually liquid assets that can easily be converted to cash, like CDs, stocks, bonds, real estate, equipment, or automobiles. If you fail to meet the repayment terms, the lender can seize the asset in lieu of payment.
In some cases, like equipment financing or commercial real estate loans, the loan is backed by the very thing it's being used to purchase. If you fail to make payments on your equipment, the lender can seize the equipment. If you fail to make your commercial mortgage payments, the lender will put a lien on your property. 
In other cases, you'll need to have collateral approved by the lender. For instance, if you're financing a big business purchase or seeking a working capital loan, a lender may require you to use an asset you already own as collateral. 
How much collateral you need depends on several factors, including your credit history, loan amount, and the purpose of the loan (e.g., access business acquisition funding, cover start-up business costs, manage seasonal cash flow needs). 
What are the business loan requirements?
As mentioned above, each lender has their own set of business loan requirements, and so the best way to find out if you're eligible for financing is to visit the lender's website or contact them directly. That said, there are a few general practices that may help useful when determining loan eligibility. 
If you're considering a small business loan through a traditional bank or credit union, you will likely need to have two years of business under your belt, have a DTI below 43%, and a DSCR above 1.10. You'll also likely need annual revenue of at least $50,000 – $150,000 and good to excellent credit. 
If, however, you're considering a business loan through an online lender, you may find that some have more flexible business loan requirements, specifically as it relates to your time in business, annual revenue, and credit score.
Further, some funding solutions, like equipment financing loans, often accommodate borrowers who don't have great credit or wouldn't otherwise meet the business loan requirements of traditional lending institutions. 
What about start-up business loan requirements?
Start-ups are notably more likely to experience financial challenges in their first few years, and that makes it harder for them to get what they often need the most — funding. If you're a new business, notions like monthly revenue and years in business can be troubling, especially if you're nowhere near meeting those requirements.
Though it may take some more time and effort on your part, there are options. In many cases, lenders who do extend business loans to start-ups will require a thorough and well-crafted business plan and financial expenses for the next three years. 
A great place to start your search and gain more information about start-up funding and small business loans is the SBA. Here, you may find that your business qualifies for SBA microloans or 504 loans, which can be used to fund startup costs. Since SBA loans are backed by the federal government but originated by SBA lending partners, requirements can vary. The first step is to find an SBA lender in your area and learn more about their offerings and requirements. 
 Finding the right small business loan can be challenging, but sometimes knowing the requirements can help you narrow down your list and find a lender that fits your needs.  As you evaluate those needs, be sure to consider your personal and business credit, time in business, monthly revenue, and your DTI. It's also helpful to check lender requirements and determine if you'll need to collateral for the loan or if your business is in an accepted industry. 
Want to learn more about how you go from application to funding? Check out our article on how business loans work.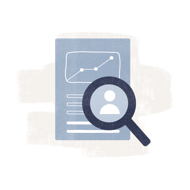 Pro tip: What you don't know can kill your business
Take charge of your financial health today with a FREE Nav account. We'll protect and monitor your personal and business credit, so when it comes time to find financing you're prepared on all fronts.
Sign up now

Rate This Article