Restaurant Loans & Financing Options
As a small business owner running a successful restaurant, you have your fair share of financial obstacles. With sky-high failure rates and ever-increasing competition, it's a challenge to get and maintain your footing in the restaurant industry. Having enough cash on hand, as well as access to the right funding, is key for your success. As a restaurant owner, you have access to many different business financing options, but not all are created equal.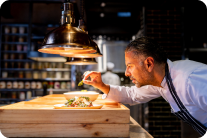 Restaurant Financing Options Details
Loan Amounts

$5,000 – $5 million

Interest rates

2% – 20% APR

Repayment Terms

12 – 72 months

Turnaround Time

As fast as 2 business days
Pros
Relatively low APR

Predictable monthly finance payments

Helps build business credit

Equipment serves as strong collateral
Cons
Can require high down payment

Requires strong credit for good terms

Financed equipment can become outdated, but you are stuck with it at the end of your payment term
Get to know Restaurant Financing Options
Gerri Detweiler • January 12, 2021
---
What is Restaurant Financing?
Restaurant financing refers to money borrowed from a bank or lender to help start, expand, or refurbish a restaurant business. This access to vital working capital provides restaurant owners with a reliable way to put money toward making their short- and long-term goals a reality as well as keep cash flow steady during slow periods.
In this article, we will cover a few restaurant business financing options:
Business credit cards
Bank lines of credit
Traditional bank loans
SBA loans
Alternative lending
Restaurant equipment loans
Restaurant inventory financing
The loan product you choose for funding a restaurant will depend on your needs, as well as what kind of offers you are eligible for. The better your credit, the more options you will have.
If your business hasn't yet established its business credit history, know that a lender will assess your personal credit score to determine how much financial risk you present.
Restaurant Financing Options to Consider
If you're ready to improve cash flow and ensure you have enough money to not only pay your regular expenses but also grow your restaurant, start by considering your funding needs.
Are you just looking for short-term financing to tide you over until next month? Or is a long-term loan that will help you achieve your big-picture goals more of a fit? If you are a franchise owner, maybe you're looking for franchise financing to buy your next unit.
What will you use the funding for? Maybe you'll invest in real estate for your next restaurant, or just make sure that payroll is covered. Perhaps you'll hire an executive chef or upgrade your stove.
There are different types of financing, depending on what you qualify for and what you plan to use the funds for. Some will require a solid credit history or high personal or business credit scores. Others may require you to put down collateral before approval. Some lenders may want to see your financial statements, while others will just want to see your credit card receivables. All of these factors will go into determining a) whether you are approved for financing and b) what your loan terms are.
Now let's look at your restaurant loan options.
How to get a business loan for a restaurant
Business Credit Cards for Restaurants
Best for
Unexpected expenses and easy access to working capital.
Business credit cards are useful for those unforeseen costs, like your printer breaking just when you need to print 100 pages. Whether you want to charge an expense or get a cash advance, credit cards are a fairly easy form of financing to obtain.
Just keep in mind that business credit cards can have high interest rates, which can double if you have low business or personal credit scores. Still, you can often find cards with a 0% introductory APR, as well as rewards cards that can help you earn cash back or travel points.
Check out our business credit card marketplace to find the right card for your restaurant.
Traditional Bank Loans for Restaurants
Best for
Established restaurants looking to expand operations.
For larger funding endeavors, look into small business loans from a bank. These working capital loans, which traditional lenders like banks more often grant to longstanding restaurants that want to grow, offer affordable terms and interest rates.
Just check your credit report before applying; a large percentage of business loan applications get denied, so review requirements to make sure you qualify first.
Traditional Bank Loans for Restaurants
Best for
Young restaurants in need of major real estate or equipment investments.
Another option for funding your restaurant is an SBA loan. Although these federal loans require more paperwork and a strong FICO small business credit score, they have beneficial loan terms and rates. Currently, you need a 140 FICO SBSS score to qualify for most SBA loan programs.
Alternative Lending for Restaurants
Best for
Working capital, new campaigns, and short-term opportunities.
This short-term loan option typically carries high interest rates, but you're usually more likely to get approved for these short-term loans from alternative lenders. Turnaround on a merchant cash advance (one type of alternative loan) can be as little as one business day. Alternative loans are a great choice for fast access to working capital as well as funding for short-term costs and campaigns, especially if you've got bad credit.
Restaurant Equipment Financing
Best for
Upgrading outdated kitchen equipment.
If your focus is buying or replacing equipment for your business, restaurant equipment financing could be a good solution. You can get the funds you need to either lease or buy the equipment, or you can choose a sale-and-leaseback option where you sell the equipment to a lender for cash and lease the equipment back from them. At the end of the term, you return the equipment or buy it from the lender.
Restaurant Inventory Financing
Best for
Making sure you can afford to keep inventory stocked.
Another restaurant financing option is inventory financing. You get the cash you need, and your inventory serves as your collateral. Should you be unable to pay back the business loan, the lender would seize your inventory as an asset.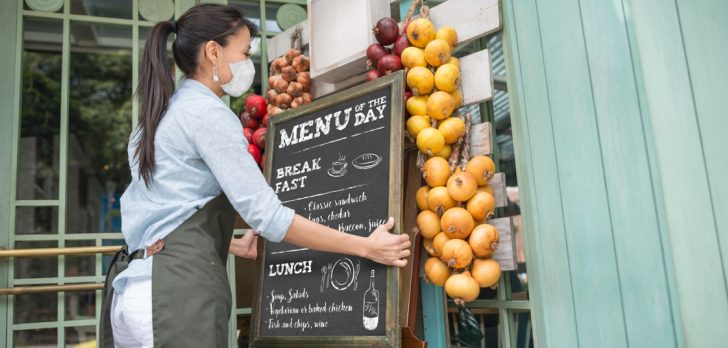 How to Compare and Evaluate Restaurant Financing Options
Now that you understand your restaurant financing options, how do you land on the one that is right for you?
Start by considering what you plan to use the money for. Do you want to add a patio to your restaurant? Hire more employees? Or are you simply looking for money to keep you afloat for a few weeks?
Here are a few more questions to guide you to the best restaurant loan option.
How soon do you need the money?
Some financing options, like an SBA or traditional bank loan, will take longer to process and get your funds than an alternative loan or credit card. An alternative loan, such as a merchant cash advance, can approve you within minutes or hours, and you can see funds deposited into your account as soon as the next business day.
How much money do you need?
Some business loans (particularly those through the SBA) have certain minimum and maximum amounts you can request. And some banks don't want to lend smaller amounts to borrowers, so you might be better off with an alternative lender.
How much are you willing to pay for financing?
A traditional bank loan will have a lower interest rate (if you qualify) and better repayment terms, but if you don't have great credit, you may have to opt for a higher APR with an alternative loan. It's up to you to decide whether that higher rate is worth it to have access to working capital to run or grow your restaurant.
When you start looking at financing partners, consider their reputation. Do you know anyone who has worked with that financial institution who can provide feedback about their experience? Is customer service available to you if you have questions? Does the lender report back to business credit bureaus (you want them to so you can build your credit history)?
Ultimately, the financing option you choose will be based on your specific situation and needs.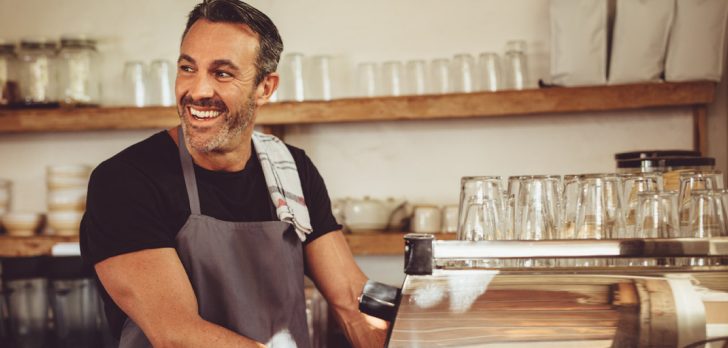 Why Do Restaurant Owners Apply for Financing?
Restaurant financing provides you with the cash you need to do so many things. Whether you're starting a new business or renovating your existing location, you can get access to the funds to make your dreams a reality.
You can also use your funding options, whether you choose a restaurant loan, line of credit, or credit card, to:
Invest in new equipment
Fund operational expenses
Open another location
Improve your restaurant's design
Add more tables or a patio to accommodate more guests
Have money set aside for emergencies
Hire a consultant to help you boost your business
Market your business
Get through a slow period
Buy real estate
There's really no limit to what you can use your funds for!
What does it take to qualify for restaurant business loans?
Applying for a restaurant loan is like applying for any business loan; while the exact requirements may vary from one lender to another, generally you can expect to be asked for information about your business, including contact information, time in business, and revenues. You may also be asked for your personal financial information if you are personally guaranteeing the loan.
The complexity of the application will also vary, depending on the type of loan you're applying for. A merchant cash advance application may take just minutes to complete, while a traditional bank loan or SBA loan application may take some time, as it more likely will require financials and tax documentation.
Nav's Verdict: Restaurant Loans
Once you get your money, put it to good use! Avoid the temptation to spend the money without direction. Use the funding to make improvements to your restaurant so that you'll easily be able to repay the loan as profits increase.
And though you might think you're done paying attention to your financials once you get approved for a restaurant business loan, stay on top of it afterward as well: regularly check both your business credit report and your business credit scores so that you understand your restaurant's financial health.
---